Heather Francisca Frostrier, known shorted to be Heather Frostrier is the main protagonist of Mockingsorrow.
Early Concept history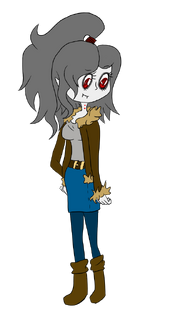 Heather Frost is the first character who created by
DragonLairFrost
in middle of 2013. She used to be Adventure Time OC in 2013. She was a vampire character. Later, she was forgetable character in 2014 until late 2015. She retooled by
Lillim
about her appearance and personality, which means she's no longer being a vampire. She just being a human or a vampire hunter. Later in early 2016, she redesign again into mutant.
History
Born to sorcerer family named Frostrier. Born to Claera Frostrier, a sorceress and Michael, a normal mutant father.
Personality
Appearance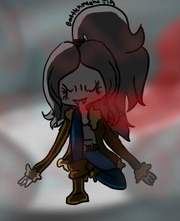 Concept art history
Original (Before redesigned)
She has a greyish-black short shoulder-length hair with half tied with red schruchies. She has red eyes with pale skin. Has a bite mark. Brown jacket with light brown fur. Grey sleeveless t-shirt. She wear brown boots, light blue skirt 
Pre-Redesign
Same as the original design, but not as vampire. Even her jacket way thicker with fur hood.
Redesign
Physical appearance
She is tall and has shoulder-legth black hair with red eyes and pale skin. Slim body and little curvaceous. As a half of similar color (Skin, eyes and hair color) to her mother but her eye shapes and hairstyles resemble to her father most.
Relationship
Sol Magranice
Claera Frostrier
Claera is her long-lost birth mother. Her mother disappeared to another dimension at age 6.
Theodore Corkman
Aaron Rockworth
Heather and Aaron may have a good term since their childhood.
Jaiden Sartor
Janna Sartor
Anma Munroe
Powers and abilities
Powers
As a normal mutant, she just stronger than humans but not stronger than Demons, Humanoids/Monsters, Mutant Metatrons, Sirens or Angels.
Ancestry
Acording to Jaiden Sartor, Heather known a lot all sorcerers to her mother sides. Ever know until her great-great grandparents.
Trivia
Theo and Heather Frost aren't related, they are best friends.

Both her and Heather Frost are same hair and eye color but their skins and hairstyles are different. Either Heather Frost has shoulder-length hair and pale skin and Theo herself has long hair and tan-reddish skin
Gallery